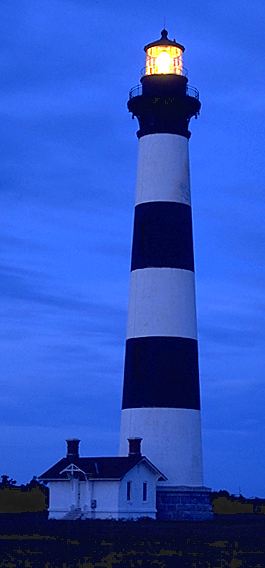 ---
Bodie Island Light
Cape Hatteras National Seashore, North Carolina
Bodie Island (pronounced "body") is north of Hatteras, 2 miles north of the bridge over Oregon Inlet. The light station and grounds are freely accessible, and tours of the tower are given daily. The keepers house has been renovated as a wonderful visitor's center.

A light was first authorized by Congress for this site in 1837, but the first ill-fated light was not built until 10 years later. The tower was only 54 feet in height, but poor construction on unstable ground caused it to tilt out of plumb almost immediately. In 1859 a second tower, this time 80 feet tall, was constructed with a firm foundation and fitted with a third-order lens. Luck was against Bodie again--two years later Confederate troops destroyed the tower with explosives.

The current tower was erected in 1872, and is a twin of the Corolla light, except for it's horizontal striped markings. It stands 156 feeet above the sands and still shines through the original first-order Fresnel lens. Bad luck did attempt another visit, however, when soon after the first lighting a flock of geese crashed into the lantern and badly damaged the expensive lens. Repairs were made, and Bodie Island Light has stood ever since.

Trails through the marshlands around Bodie Light offer opportunities for viewing waterfowl in their native habitat.

A fine art print of this lighthouse is available for purchase.
---