Boston Light
Boston Harbor, Massachusetts

This site is steeped in history. The tower built on Little Brewster Island in Boston Harbor in 1716 was America's first lighthouse. A teenage Ben Franklin wrote a "doggeral ditty" about the death by drowning of the first keeper, George Worthlake. The lighthouse suffered damage during the Revoutionary War from both the Americans and the British, and required an extensive rebuilding in 1783.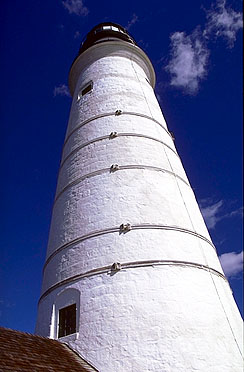 In 1859 another extensive modification to the tower added the lantern room to house the second-order Fresnel lens. The duplex keeper's house was added at this time. In 1888 a 20,000 gallon cistern was added which is still used to collect rainwater. In 1939 the Coast Guard took over the management of Boston Light, and in 1956 electricity finally came to Little Brewster Island.
Today, Boston Light's 98 foot tower flashes it's 1.75 million candlepower beacon every ten seconds, visible for 27 miles. The lighthouse is the last remaining manned station in the United States. Tours of the lightstation are sponsored several times each year by the Friends of the Boston Harbor Islands. Call 617-740-4290 for details, or visit the FBHI web site at www.tiac.net/users/fbhi/