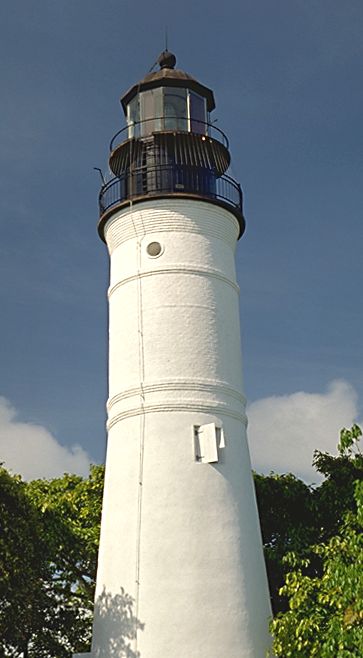 ---
Key West Light
Key West, Florida
The Key West lightouse was decommissioned as an active navigation aid in 1969. Today it serves as a working museum, and visitors may climb all the way up into the lantern to view the third-order fresnel lens.
Originally completed in 1848, the tower was 66 ft. tall, with a third-order lens. By 1894 the city of Key West had grown and a taller lighthouse was needed. At that time 20 feet was added to the original tower--the demarcation between the old and the newer bricks is clearly visible in the photo, just above the small open window.
From the top of the Key West Light visitors can look down on the town and the harbor, and the Ernest Hemingway home across the street. Key West is home to other famous landmarks, such as Sloppy Joe's Bar.
The tower and grounds were fully restored in 1989, and are open 9:30-5:00 daily. The grounds are immaculately maintained ... there is a wonderful banyan tree that looks as if it was planted when the lighthouse was built. The old keeper's house has been converted into an excellent museum, featuring a pair of fifth-order lenses. There is also a gift shop.
---