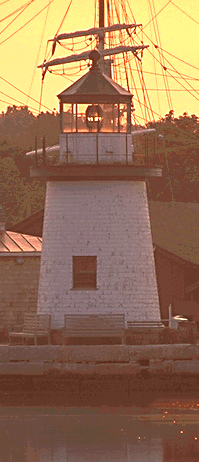 Mystic Seaport
Mystic, Connecticut
Mystic Seaport is a living museum, comprised of the many activities that might be found in a New England coastal village of the 1800's. The lighthouse is not the main attraction here -- it's just a replica of Brant Point Light on Nantucket Island.

Visit Mystic Seaport if you can. There are several tall ships tied up to the docks. The Charles W. Morgan is a three-masted whaling bark from 1841, and the Joseph Conrad is a three-masted full-rigged training ship from 1882. The Morgan is the only surviving wooden whaling ship, and it was actively whaling until 1921. The Conrad is one of the smallest full-rigged ships built in modern times. Originally called the George Stage, it was a Danish training ship before it became the Joseph Conrad and sailed around the world in the 1930s. The other large vessel at Mystic Seaport is the L.A. Dunton, a two-masted fishing schooner built in 1921.

There are hundreds of other boats, as well as exhibits such as ropemaking, barrelmaking, boatbuilding, and anything else that might have been typical of a seacoast village. There's also a planetarium, art gallery and gift shop.

The modern-day town of Mystic is a small New England community with lots of shops, and of course, Mystic Pizza.

A fine art print of this lighthouse is available for purchase.
---