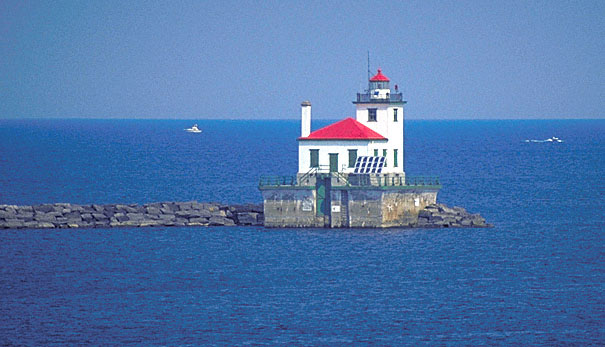 Oswego West Pierhead Light
Oswego, NY
In 1822 a lighthouse was built on the east side of the Oswego River. In 1836 that light was replaced by a stone tower on the pier on the west side of the river. Finally, the present structure was constructed in 1934 and remains an active light today, serviced by the Coast Guard. The 57-foot white metal tower shines a rotating red fourth order Fresnel lens.

Oswego connects Lake Ontario and the St. Lawrence River with the Erie Canal system and the Hudson River to the south. The nearby H. Lee White museum features Colonial and Iroquios exhibits. The light can be viewed from the museum or from the higher vantage of the old Fort Ontario on the eastern side of the river.