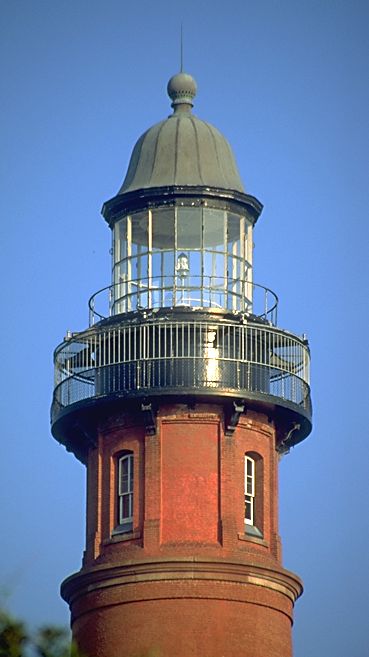 ---
Ponce de Leon Inlet Light
Ponce Inlet, Florida
A light was first built on this site, south of Daytona, in 1835, but soon after completion a severe storm washed much of the sand away from the base. Within a year, the tower had fallen into the sea! It wasn't until 1887 that the current Ponce Inlet Light was completed. The bricks for the tower were shipped to the site from Baltimore, and a first-order fresnel lens was installed.

The light was taken out of service in 1970, replaced by a beacon at the New Smyrna Coast Guard station. But when high-rise condos obscured the Coast Guard beacon in 1983, the old Ponce light was returned to service.

The tower, grounds, and museum are open daily. I climbed the 168 foot tower as a fierce thunderstorm approached. I was the last to climb down, and the attendant locked the door behind me, saying "you almost got fried."

In 1995 a new display building was opened on the Ponce grounds, featuring the gorgeous 19 ft tall first-order lens originally installed in the Cape Canaveral lighthouse. The lens is on and rotating, casting it's historic beam around the walls of the museum. Visitors can examine this massive optic at very close range.
---