Raspberry Island Light
Apostle Islands, Wisconsin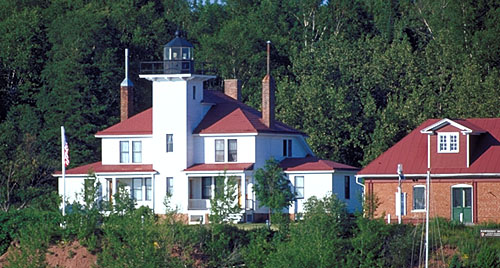 The Apostle Islands were named by early French Missionaries who mistakenly thought there were 12 islands (there are 22). The islands today form the Apostle Islands National Lakeshore and feature a collection of unique lighthouses.
The white clapboard lighthouse at Raspberry Island was constructed in 1863 and fitted with a fifth-order lens. The red brick structure was added in 1902 to house a fog signal. In 1957 the Coast Guard placed a solar-powered optic on top of a steel pole, ending the original light's service.
Raspberry Island can be visited June-August (715-779-3397).