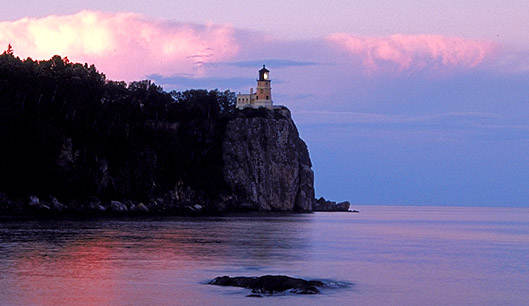 ---
Two Harbors, Minnesota
Split Rock Light is unusual, being a complete 20th century light station, with a tower, keeper's house, fog signal building, and oil house all constructed in 1910. The lens is a gorgeous Third Order bivalve Fresnel that looks like a big clamshell rather than the traditional beehive look. The lens contains 242 separate prisms, and was manufactured by Barbier, Bernard, and Turenne of Paris. Th e light can be seen for 22 miles. The lens rotates, giving off a flashing white beam. The light was deactivated in 1969, and today is lit once a year on the anniversary of the wreck of the Emund Fitzgerald. Part of the incentive for building Split Rock was the Lighthouse Board's concern that "the unusual magnetic attractions in the neighborhood make navigation difficult in thick weather." The tower stands atop a 130 foot high cliff.



---
Today Split Rock is the focal point of a State Park, northeast of Duluth on Highway 61.The park has a fine museum located a few hundred feet from the lighthouse complex which details the history of the lighthouse and its construction. Included is a video presention on the keepers life at Split Rock. Visitors can climb the lighthouse tower while the lens is rotating and observe the weight driven mechanism being rewound. The separate fog signal building and restored keepers quarters are also open to visitors. The height of this site makes for a spectacular view out over Lake Superior and along the rocky shoreline. Visitors can walk down to the water's edge along the path of the old tramway used to haul supplies from the landing area up to the lighthouse. The museum and lighthouse complex is open from late spring to late fall and the park has picnic facilites and some wonderful trails along the lakeshore.

Many thanks to Split Rock site manager Lee Radzak for turning on the light for my night photos.
---