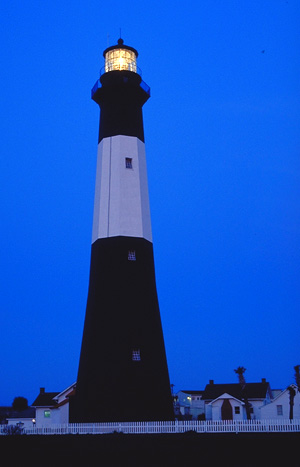 ---
Tybee's historical credentials go way back to the original Georgia colony of the 1730's. Tybee Island stands at the mouth of the Savannah River, and in 1736 a 90 ft. wooden tower was built to aid navigation in the area. The tower was the tallest structure of its kind in America at the time. After it was washed away in a storm in 1741, work on a replacement began immediately, with a wood and stone tower completed the following year. This second tower met the same fate as the first, so was replaced by a third in 1773--a 100 foot brick tower with a wooden interior staircase. First lit by candles with reflectors, followed by 16 whale oil lamps, the octagonal tower eventually was fitted with an eight foot tall second-order fresnel lens in 1857. In 1933 the light was converted to electricity, and after 1947 there were no longer keepers on the site.

The Civil War was hard on Tybee Light. The Confederates burned out the interior to prevent its use by the Union army. After the war a new light was built, using the lower 60 feet of the original as a foundation. Tybee's new 154 foot tower was fitted with a new 9 ft. tall first-order fresnel lens which was first lit on October 1, 1867. This tower and lens have remained in use until the present time, although the pattern of black and white markings has changed over the years.

Today Tybee Light is maintained by the Tybee Island Historical Society which maintains the grounds as a museum through a lease with the Coast Guard, which maintains the still-active light. Tybee is very unusual in that all of its support buildings are intact. The site includes a headkeeper's house, two assistant keeper's houses, a summer kitchen, and fuel storage building. The tower is open for climbing and there is a gift shop. A restoration campain is currently under way.

A fine art print of this lighthouse is available for purchase.
---