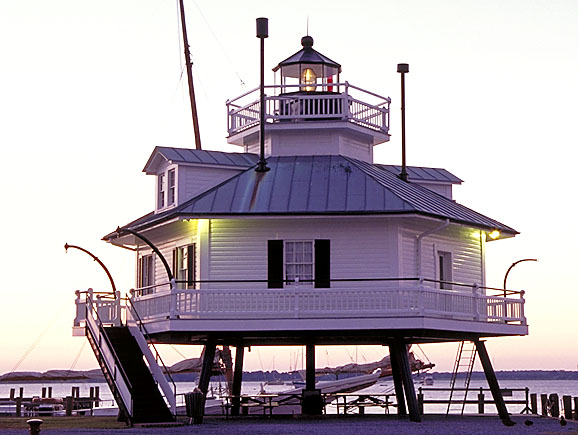 This screwpile cottage-style lighthouse was originally built in 1879 on Tangier Sound, on the eastern side of the Chesapeake Bay. The light was deactivated in 1966, and was moved to the Chesapeake Bay Maritime Museum in the charming town of St. Michaels.

The original 5th order fresnel lens has been replaced with a 4th order fresnel. Visitors to the museum are allowed to climb into the tower and view the lens up close. The restored Hooper Strait Light is also a museum, with rooms maintained as they would have been 100 years ago. Ever wonder what a lighthouse surrounded by water would use for a bathroom? Here's one solution that is characteristic of the Chesapeake screwpile light!

Hooper Strait Light housed two men who served as keepers. No wives or families were permitted in this lighthouse. The first floor of the cottage housed a kitchen, office, and two bedrooms. Water for drinking was collected in 200-gallon wooden tanks.

A trip to St. Michaels and the Maritime Museum is a very romantic getaway. The small town is filled with shops to while away an afternoon, and there are many fine restaurants. There are many festivals and events throughout the year in St. Michaels.

A fine art print of this lighthouse is available for purchase.
---